Quick and Easy Tarot Deck by Lytle, Ellen!!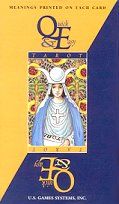 Featuring printed meanings on each card, the Quick and Easy Tarot makes reading the tarot easier than it has ever been before, with printed meanings displayed on each card, with both upright and reversed.
I have many more items available. Contact me at coffees596@yahoo.com for more.
Quick and Easy Tarot Deck by Lytle, Ellen
Product Code: LS1
Availability: In Stock