Beautiful Moon and Star Adjustable Ring!!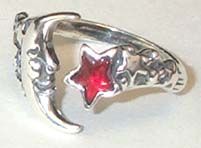 This beautiful moon and star ring has an adjustable band ending in the image of a crescent moon chasing a ruby-red star, with engraved star decorating the band. 3/4" across, adjustable between sizes 7-10, moon is 1/2" high.
I have many more items available. Contact me at coffees596@yahoo.com for more.
Beautiful Moon and Star Adjustable Ring
Product Code: LS1
Availability: In Stock